JLG Industries

ForgeFX Simulations is a proud simulation development partner of
JLG Industries
, an Oshkosh Corporation company, and the world's largest designer, manufacturer and marketer of access equipment (aerial work platforms, telehandlers, scissor lifts and other access equipment). JLG partnered with ForgeFX Simulations to develop this Articulating Boom Lift Operator Training Simulator, a tablet-based equipment operator training simulator product that allows trainees to learn proper equipment operation procedures and techniques, in a safe, cost-effective, easily deployable, and risk-free virtual environment. The application simulates the JLG proving grounds at its customer training center, a four-acre tract of land that includes obstacle courses designed to train participants in the operation of JLG equipment via a tablet computer.
JLG Equipment Training Simulator
JLG articulating boom lifts give operators the extra reach they need to work over and around obstacles on the job site. They offer exceptional outreach, high capacity, versatile performance and easy maintenance. The larger work envelope on an articulating lift provides access to those hard-to-reach places—but proper training is mandatory. That's where the JLG Equipment Simulator, developed by ForgeFX Simulations, comes in. Providing simulation-based training for boom lifts and telehandlers, the simulator delivers training for operators of JLG's articulating boom lifts.
The JLG Equipment Simulator is a training tool for operators who are learning to use JLG boom lifts and telehandlers. The application provides beginner and intermediate level scenarios to help improve operational skills, as well as a controls familiarization. While there is no substitute for real-world training, training simulators allow operators to quickly become familiar with machine controls so they can rapidly progress to more difficult concepts that require comprehensive knowledge of all machine controls.
Articulating Boom Lift Simulator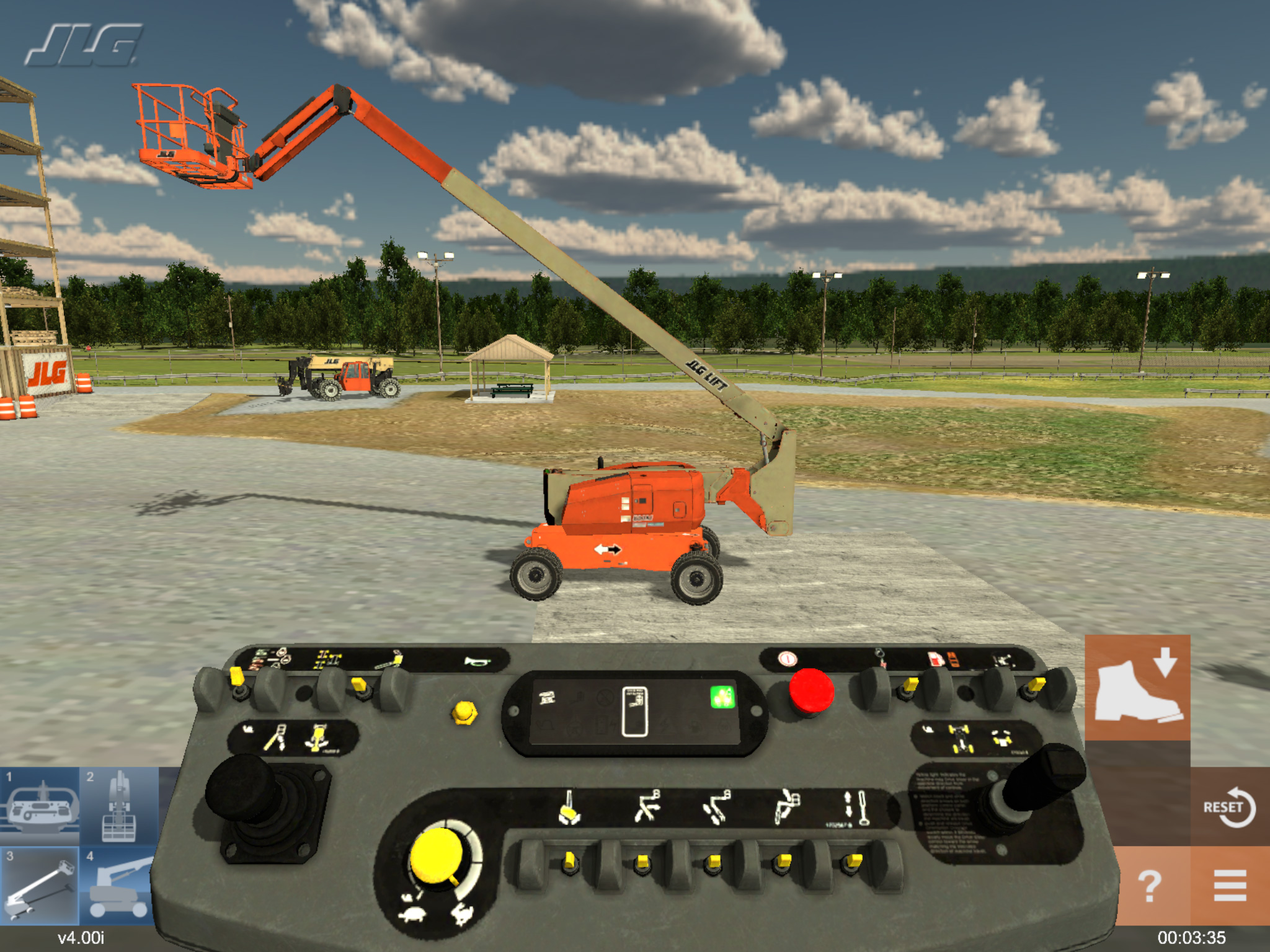 Reduced Training Costs: Advanced simulation-based training allows employees to train in a safe and risk-free virtual environment, reducing wear and tear on valuable physical equipment.
Quality Practice Time: Increased virtual hands-on training reduces the time it takes to reach to proficiency. Real-world controls and simulator integration translates easily to machine knowledge.
Skills Evaluation: Create and save custom training scenarios to test a variety of different skills and select the criteria important to your organization used to monitor trainee performance.
Articulating Boom Lift Simulator
ForgeFX Simulations partnered with JLG Industries to develop this articulating boom lift training simulator, which is included in their tablet-based equipment operator training application. Providing tablet-based simulation-based training allows operators to access training any time, any place, to develop their skills regardless of having access to real-world equipment.
Equipment Operator Training Simulators
Thank you for your interest in the equipment operator training simulator products developed by ForgeFX for JLG. Please visit the
JLG Industries
website for more information about all of their equipment and related products, and for more information about the development of a custom training simulator for your company, please contact
ForgeFX Simulations
to discuss your requirements and receive an estimate.
Contact Us Now