JLG Industries

ForgeFX Simulations is a proud simulation development partner of
JLG Industries
, an Oshkosh Corporation company, and the world's largest designer, manufacturer and marketer of access equipment (aerial work platforms, telehandlers, scissor lifts and other access equipment). JLG partnered with ForgeFX Simulations to develop this 670SJ Self-Leveling Boom Lift Operator Training Simulator, a motion platform-based equipment operator training simulator product that allows lift trainees to learn proper equipment operation procedures and techniques, in a safe, cost-effective and risk-free virtual environment.
JLG Self-Leveling Boom Lift Simulator
The 670SJ is the first JLG boom lift available with self-leveling technology. This new technology will be phased into production across a wide-range of models and will evolve to meet international compliance standards in the future. The 670SJ self-leveling boom simulator provides a safer and more productive solution to train for a number of common customer pain points on slopes up to 10° when compared to a standard boom lift.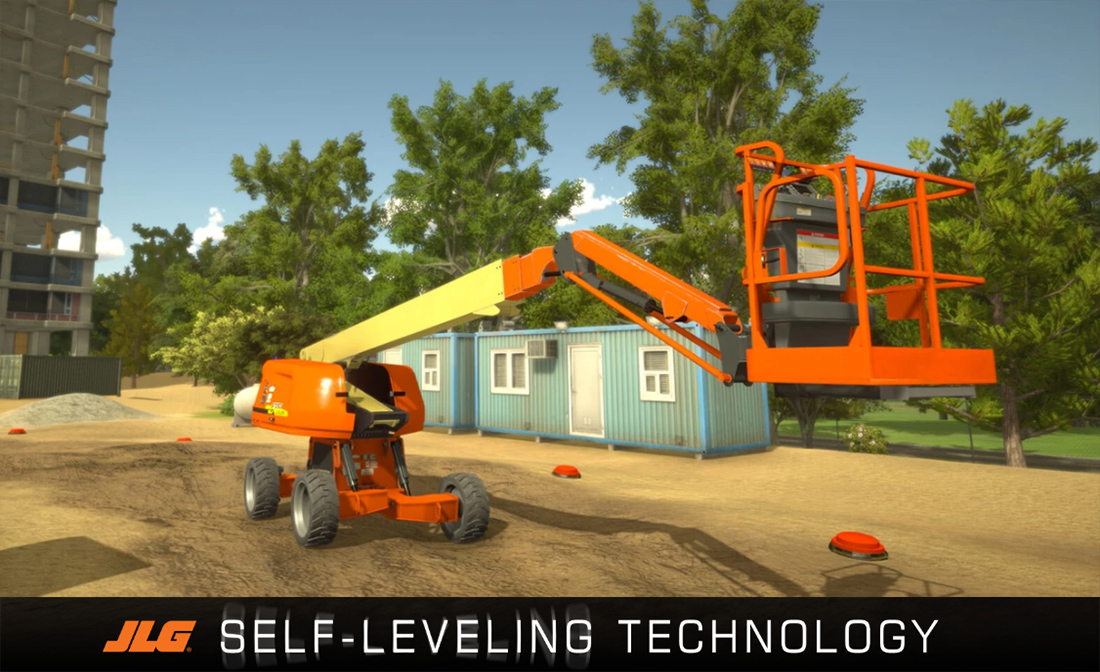 Reduced Training Costs: Advanced simulation-based training allows employees to train in a safe and risk-free virtual environment, reducing wear and tear on valuable physical equipment.
Quality Practice Time: Increased virtual hands-on training reduces the time it takes to reach to proficiency. Real-world controls and simulator integration translates easily to machine knowledge.
Skills Evaluation: Create and save custom training scenarios to test a variety of different skills and select the criteria important to your organization used to monitor trainee performance.
JLG Industries Self-Leveling Chassis Training Simulator
JLG's self-leveling technology simulator was presented by ForgeFX Simulations at CONEXPO 2020 to give attendees a real-life feel for what it's like to operate a self-leveling lift.
The JLG 670SJ self-leveling chassis training simulator trains operators on all of the unique features of the equipment, including:
Allows the operator to traverse uneven ground with full functionality while driving at height.
Drastically reduces or eliminates the manual labor and time required to set up cribbing and/or grade the work area.
Reduces the need for earthmoving equipment where minor grading and leveling was previously required.
Reduces or eliminates redundant positioning to locate a level work area.
Allows the boom lift to get closer to the work area, maximizing its reach capabilities and minimizing the need for larger, higher reaching lifts as backup.
Decreases platform movement during travel; improving operator comfort and reducing the risk associated with movement of objects within and/or falling from the platform.
Self-Leveling Chassis Boom Lift Training
ForgeFX Simulations partnered with JLG Industries to develop this motion platform-based self-leveling chassis boom lift operator training simulator. Combining haptic motion and simulation-based training technology, allows the trainee to safely work in a realistic, virtual, and challenging environment to understand the equipment and develop their skills.
Equipment Operator Training Simulators
Thank you for your interest in the equipment operator training simulator products developed by ForgeFX for JLG. Please visit the
JLG Industries
website for more information about all of their equipment and related products, and for more information about the development of a custom training simulator for your company, please contact
ForgeFX Simulations
to discuss your requirements and receive an estimate.
Contact Us Now