JLG Industries

ForgeFX Simulations is a proud simulation development partner of
JLG Industries
, an Oshkosh Corporation company and the world's leading designer and manufacturer of aerial work platforms, telehandlers and other access equipment. In addition to creating industry-leading equipment, JLG partners with their customers by providing cutting-edge training and service, which is unsurpassed in the industry. The huge success JLG has achieved also presents them with a challenge, how to provide training for such a large number of new operators. To meet this challenge, JLG partners with ForgeFX Simulations to develop a suite of operator training simulators, including
AccessReady Fusion XR™
, a virtual reality equipment training simulator product that allows trainees to learn proper access equipment operation, in a safe, risk-free and cost-effective virtual environment.
ForgeFX Simulations produced a training simulator framework for JLG that is available across a collection of platforms and devices, including Virtual Reality, Windows, iPad, etc., allowing operators to easily access the comprehensive simulation-based training content wherever they are. AccessReady Fusion XR™, now available for purchase from JLG Industries, provides operators with a virtual reality-based training simulator, including everything from machine controls familiarization, to task-based scenarios for training on complex maneuvers, to a networked multi-user instructor-led mode.
Boom Lift Simulator
670SJ
Self-Leveling Boom Lift Training Simulator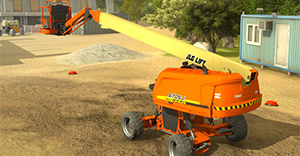 This training simulator was developed for the JLG 670SJ self-leveling boom lift training simulator, the first JLG boom lift available with self-leveling technology. This new technology will be phased into production across a wide-range of models and will evolve to meet international compliance standards in the future.
Scissor Lift Simulator
1930ES
Electric Scissor Lift Training Simulator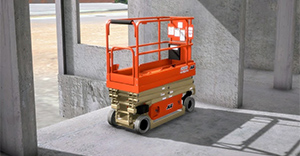 The 1930ES training simulator allows operators to train virtually on all aspect of the scissor lift's operation. The simulator covers everything from equipment controls familiarization to machine operation training, giving users the ability to become expert operators before getting into the real-world lift.
Articulating Lift Simulator
800AJ
Articulating Boom Lift Training Simulator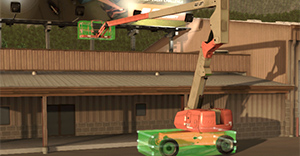 The 800AJ training simulator helps operators learn to safely operate a JLG articulating boom lift, sometimes called knuckle boom lifts. The simulator allows operators to master the equipment controls and become familiar with the specific spatial awareness challenges posed by the equipment and the environment.
Boom Lift Simulator
800S
Telescopic Boom Lift Training Simulator
Telehandler Simulator
G10
High Capacity Telehandler Training Simulator
Ultra Boom Lift Simulator
1850SJ
Ultra Series Telescopic Boom Lift Simulator
AccessReady Fusion XR™ training simulator combines cutting-edge technology with a unique training experience to help trainees build the hands-on skills they need. The training simulation applications listed above, including AccessReady Fusion XR™, are part of the suite of products that ForgeFX Simulations develops and maintains for JLG Industries.
JLG AccessReady Fusion XR™ Virtual Reality Training Simulator
ForgeFX Simulations is proud to have developed AccessReady Fusion XR™ for JLG Industries. This networked multiuser virtual reality equipment operator training simulator provides highly interactive and immersive training for equipment operators of all skill levels to teach everything from controls familiarization, to machine operation, to advanced spatial awareness challenges.
Virtual Reality Training Simulator
Now available to customers nationwide, AccessReady Fusion XR™ is a cost-effective VR training simulator that includes multiple training options, from multi-user scenarios to an instructor-led mode. Practice your skills in a virtual environment that provides real-time interaction and true-to-life job site scenarios. Featuring 6 degrees of freedom virtual reality, real-world controls integration, networked multi-user cooperative training support, and hand, head and positional tracking, the simulator delivers an unparalleled immersive training experience.

JLG Industries, Inc., an Oshkosh Corporation company, is an American designer, manufacturer and marketer of access equipment (aerial work platforms and telehandlers). The company's products are used in construction, fit-outs, industrial maintenance, material handling and facilities maintenance. Founded in 1969, JLG operated independently until 2006 when it was acquired by Oshkosh Corporation. JLG operates globally and is headquartered in McConnellsburg, Pennsylvania, United States.

Equipment Operator Training Simulators
Thank you for your interest in the equipment operator training simulator products developed by ForgeFX Simulations for JLG Industries. Please visit the
JLG Industries
website for more information about all of their equipment and related products, and for more information about the development of a custom training simulator for your company, please contact
ForgeFX Simulations
to discuss your requirements and receive an estimate.
Contact Us Now